The New Energy Labels
Energy Labels Have Changed - What you need to know!
The energy label has been a mainstay of appliances and products for more than 25 years. It has helped consumers search for and choose energy efficient products, while encouraging manufacturers and retailers to develop more innovative and efficient products.
Due to increased demand for more environmentally friendly options, the energy that appliances use has reduced. This means that the current energy label, which ranges from A+++ to G, has become less effective. Most products available today are rated in the top two or three classes (A+ to A+++), making it difficult to identify the most efficient products.
So, to make it easier to buy the right home appliance or product for your needs, the energy label has been improved. The new label, which will appear in shops and online from March 2021, will feature a new, simpler range: A to G.
​​​​​​​Why The New Energy Label?
In 2020, the UK introduced a new energy label. By spreading energy performance over a much wider scale, you will find it easier to compare efficiency across products. Plus, it will also set new standards for energy saving appliances, bringing further savings to you as well as meeting environmental commitments set by manufacturers and the Government.
New features
Several improvements have been made to the energy label, which should make it easier to understand the features of your new home appliance:
all products will feature the new, consistent scale from A to G
a QR code on the energy label will allow you to access useful product information by scanning the code with a smartphone
some icons showing product features have been adapted, while other new ones will be added (for example, the spinning efficiency class of a washing machine)
the energy consumption of the appliance is now more prominent on the label
Which products are affected?
The new energy label will be introduced gradually across a range of products. From 1 March 2021, new labels will appear in stores and online shops for the following appliances:
household refrigerators and freezers
wine storage refrigerators
washing machines
washer-dryers
dishwashers
televisions and electronic displays
For other products such as air conditioners, tumble dryers, vacuum cleaners and water heaters, the new labels will be introduced as soon as new or revised UK regulations come into force, which is currently expected to be in 2022.
What do the new labels look like?
The labels for the six product groups feature new, useful information specific to each product type, and new imagery on the label to represent this. Here, you'll find the new labels and some of the main differences with the old label.
Refrigerators and freezers
Changes to the old label include the new energy efficiency scale, a new icon for chilled and unfrozen compartments, as well as a new icon for noise emissions.
Wine storage refrigerators
Differences include the new energy efficiency scale, a new icon for wine bottles and a new icon for noise emissions with details of noise emission classes.
Washing machines
In addition to the new energy efficiency scale, the new label will show energy consumption listed per 100 washes, additional information on capacity and duration of 'Eco 40-60' programmes, water consumption per litre, and noise emission classes.
Washer-dryers
The new label will include the new energy efficiency scale and noise emission classes for spinning. Energy consumption is now listed as per 100 washes, with a rated capacity, water consumption and details of duration now listed for a wash and dry cycle, as well as for wash only.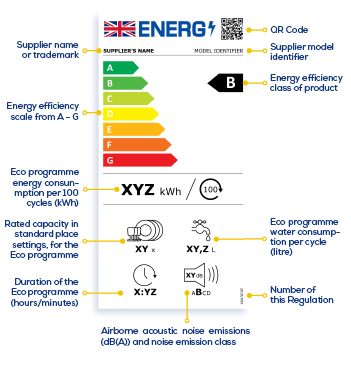 Dishwashers
As well as the new energy efficiency scale, energy consumption for an 'Eco' setting is now listed as per 100 cycles; water consumption for an 'Eco' setting is now listed in litres; duration of an 'Eco' setting is now shown; and there's a new icon for noise emissions.
TVs and electronic displays
TVs and other electronic display labels will show energy consumption per 1,000 hours of use for both standard dynamic range (SDR) and high dynamic range (HDR). Power in watts and hard switches have been removed, while screen size now includes resolution level (in pixels).
For more information about the individual icons and the differences between the old and new labels, check out the Label2020 product groups.